All about Goa destination wedding cost
Wedding is a most auspicious occasion for every onboarding couples and families that comes together and celebrate happiness. A destination wedding is a very unique style of wedding that is a dream of most of Indians, if you wish to plan a wedding for a unique destination and curious to know about the cost of it then this article will help you a lot. We have come up with some details regarding Goa destination wedding cost and will discuss how much you need to spend on a wedding in Goa. To know more in details kindly continue reading below: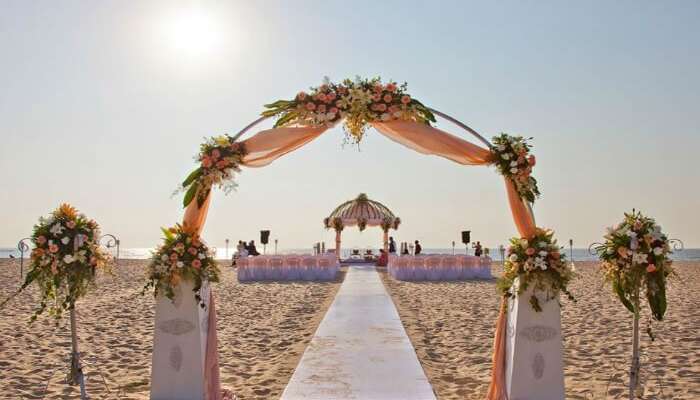 One of the most important requirement, if you are planning a destination wedding, is the stay or accommodation for your guests and family. It is already said that 50% of your total budget goes on accommodation purpose. The requirements might be of 50 rooms for 100 guests with double occupancy sharing, you can take 2 nights and 3-day stay package with breakfast and all other meals. As per our calculations, the total accommodation cost for 100 guests along with food for a total of 2 nights and 3 days will be around 12 lakh and 25 lakh approximately. 
The Arrangement is also the most crucial part of every wedding, it includes Decorations, Entertainment, Procession, Makeups, Photography/Cinematography and other miscellaneous. As per our calculations, the Goa destination wedding cost for certain decorations will cost you around 20 lakhs that include all the basic arrangement's. For Entertainment purposes such as DJ or any professional singer it will cost you around 2 Lakh, for the procession and makeup it will be priced around 1 lakh for the entire event. One of the most important that is Photography/Cinematography for 2 days will cost you 2-4 lakh. Other miscellaneous requirements such as cakes, fireworks, sky lanterns will cost you around 1.5 Lakhs.
Well, your accommodation might be far away from the wedding venue so you and your family might require transportation. You have to hire transportation or cab agencies to get multiple vehicles such as a bus or other vehicles to transfer your guests. The total average cost for the transportation will be somewhere between 50000-85000 for the entire event. 
The above mentioned were some of the basic requirements of Goa destination wedding cost, all the prices mentioned were taken on average. The cost may vary from the number of guests to facilities you choose. Hope this article has helped you find your query related to this topic.
Thank You for visiting.